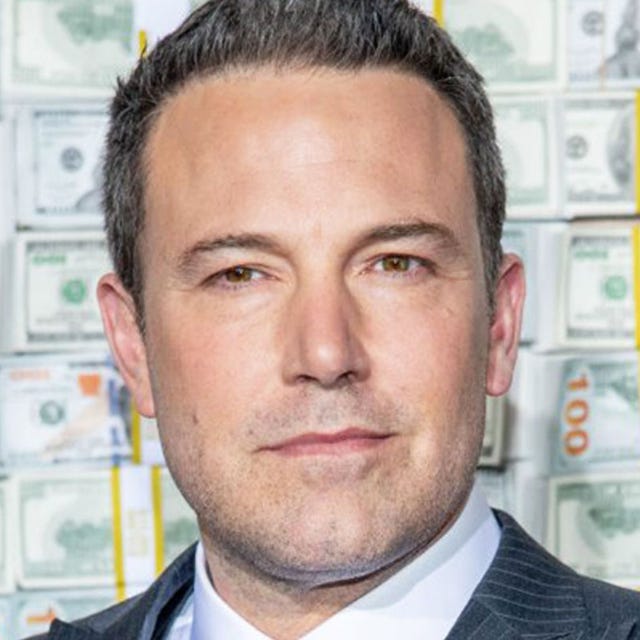 Getty Images
If you find your head thinning or your hairline receding, there's no need to panic. Just take some styling tips from our favorite male celebrities who've proven that you can go thin gracefully. Whether you take the accessorizing approach like Ashton Kutcher, try hair treatments, or embrace the buzzed badass look like Channing Tatum, you may end up looking even better than before! If you need some inspiration, look no further than these 20 stars who look great with thinning hair.
1 of 40
Before: Ben Affleck
Ben Affleck back in 1997 meant a fresh-faced actor with a sky-high pompadour. This iconic hairstyle just may be how he scored his role in Gigli.
2 of 40
After: Ben Affleck
It's clear the actor has battled a receding hairline for years. No worries, Ben. You still look great! Plus, J.Lo likes it.
3 of 40
Before: Ashton Kutcher
Thanks to his days as Michael Kelso on That '70s Show, we know how precious Kutcher's hair is to him. And boy, did he have some luscious locks.
4 of 40
After: Ashton Kutcher
Ashton Kutcher first noticed his hair was thinning at age 25. While he promptly began taking supplements, the star recently noticed it's beginning to thin again. However, the actor isn't too concerned. As he put it on CONAN in 2018, "I've established myself as this baseball cap wearing individual. When it does go, you're not gonna know that it's gone because I'm gonna have a baseball cap on." There's nothing an easy accessory can't fix.
5 of 40
Before: Robert Pattinson
A major part of Twilight star Robert Pattinson's broody vampire look was his long, tousled brown hair.
6 of 40
After: Robert Pattinson
While his hair isn't quite as shaggy as in his vampire days, Robert creates a voluminous look with some strategic product. By keeping the slides sleeker, the hair at the top of his head appears thicker.
7 of 40
Before: David Beckham
When the British soccer star was making a name for himself in the early '00s, he rocked a long, sweeping blond 'do.
8 of 40
After: David Beckham
While Beckham's hair is by no means completely thinned, he definitely sports a shorter look now than he did in the past. By keeping the sides buzzed, the length and thickness of the middle section is accentuated. If it's good enough for Posh Spice, it's good enough for us!
9 of 40
Before: LeBron James
LeBron has been known to keep his cuts clean and short for the most part, even when he was first starting off his NBA career. When you're that good on the court, who has time to worry about hair?
10 of 40
After: LeBron James
While the NBA superstar was never known for having long hair, his hairline is noticeably further back than it was years ago. That being said, LeBron's tight buzz and perfectly-sculpted facial hair keeps the attention on his championship-winning smile.
11 of 40
Before: Channing Tatum
With a swooping side part and plenty of hair gel, a young Channing Tatum took over Hollywood.
12 of 40
After: Channing Tatum
Let's face it: Channing looks good no matter what. Even though his hair looks a bit thinner — and more buzzed — than his Step Up days, he's still major leading man material. Sometimes a good razor is all it takes!
13 of 40
Before: Steve Carrell
When the world first met Michael Scott, Carrell was rocking this smooth, dark combover. World's best boss, or world's best hair?
14 of 40
After: Steve Carrell
While the comedian's hair might not be as thick nowadays, it certainly looks just as good. By keeping a salt and pepper mix of color — especially with his facial hair — Carrell brightens up his look with a more youthful appearance. The contrast of different hues also creates the illusion of thickness.
15 of 40
Before: Chris Pratt
Years before he was starring alongside Amy Poehler in Parks and Recreation, Pratt sported long, curly locks.
16 of 40
After: Chris Pratt
These days, Pratt opts for a shorter look, keeping his sideburns tight and swooping the hair at the top of his head to the side. Add on the 'stache and thin beard, and you've got the Jurassic Park star's signature look.
17 of 40
Before: Jude Law
Jude Law was known for his rock 'n roll, tousled hairstyle back in the early aughts.
18 of 40
After: Jude Law
Jude held onto his grungy style by growing out a full beard. His small side part at the top of his head adds a bit of extra edge.
19 of 40
Before: Chace Crawford
While starring on Gossip Girl, Chace — with his long, side-swept bangs — was the ultimate ladies' man of the mid '00s.
20 of 40
After: Chace Crawford
While signs of some thinning are clear, Chace looks as good as ever by tousling his hair with product and growing out a full beard. Not to mention the fact that all these years later, he still maintained his thick eyebrows. The lesson: Never underestimate the power of a good brow.
21 of 40
Before: Daniel Craig
Pre-James Bond Daniel Craig was known for his flowing blonde locks. Can you imagine?
22 of 40
After: Daniel Craig
This hairstyle has become a signature for the action star. Keeping it tight on the sides with a short swoop in the front, Daniel is red carpet ready