The Mexican artist Colette has dabbled in Cubism, installations, conceptual and video art. She aspires for her work to be seen at one of Latin America and the world's most innovative art museums, Museo Jumex in Mexico City. Along with many other creatives before her, she's found inspiration in Baja California Sur's artist haven Todos Santos with its raw, rugged beauty, light and free thinking.
Colette calls herself a feminist, a thinker—an artist of the world. She's even made a name for herself being a bit mischievous with fellow contemporaries, living up to her namesake, French novelist Colette's life advice, "You will do foolish things, but do them with enthusiasm." You see Colette owned up to stealing Italian artist Maurizio Cattelan's "America" sculpture, an 18-karat gold functioning toilet that was found stolen from an English palace in 2019. But the theft was a playful political statement, says Colette. This was the golden toilet shown at Guggenheim that nodded to the excessive waste of the Trump years.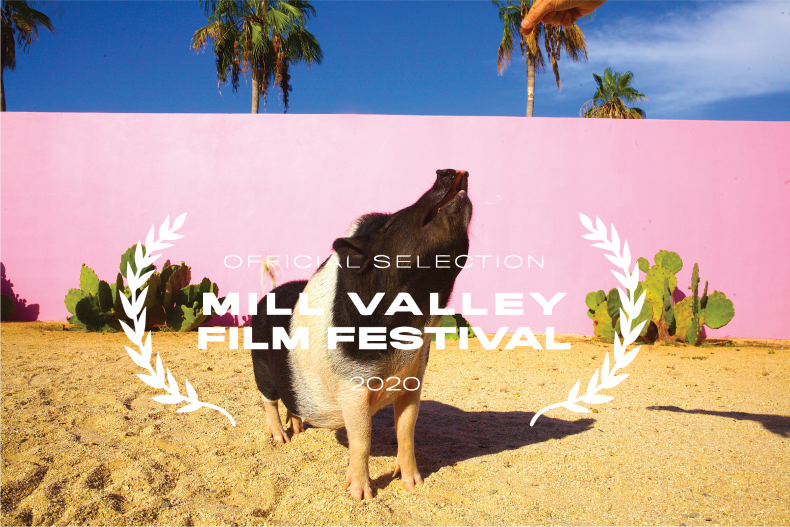 Colette is a pig. And her inspiring story has been turned into a documentary short film "Colette the Artist" that's made its way into the official selection of the annual Mill Valley Film Festival, which celebrates its closing night tonight. MVFF returns for its 43rd year, but also its first-ever drive-in and virtual festival in a year no one saw coming. So it's only fitting that a film about an artist pig has captured attention and hearts as well.
If 2020 is the year that anything can and has happened, can it not also be the year to find a suspension of disbelief that a pig can be an artist? "Colette the Artist" offers a downtrodden world hope that 2020 still can hold joy and possibilities.
Welcome to The Hotelito, Such an Inspiring Place
Like many artists before who have sought out inspiration in transience and among the well-trodden, Colette lives in a hotel. She's happy that tourists flock to the Eagles-made-famous Hotel California which is also in Todos Santos because she's found a quieter place to think (and maybe a bit of wallowing in the mud) at her artist residence at The Hotelito.
The dirt roads in Todos Santos can lead to anything the locals often say, and this town's power to enchant has earned it official "Pueblo Magico" status, the Mexican government's recognition for about 100 other small towns full of unique culture, natural beauty and historical significance. Todos Santos is an artistic oasis, as well as a natural one; in this otherwise desert arid landscape, an underground aquifer supplies the town with freshwater and pops of palm trees.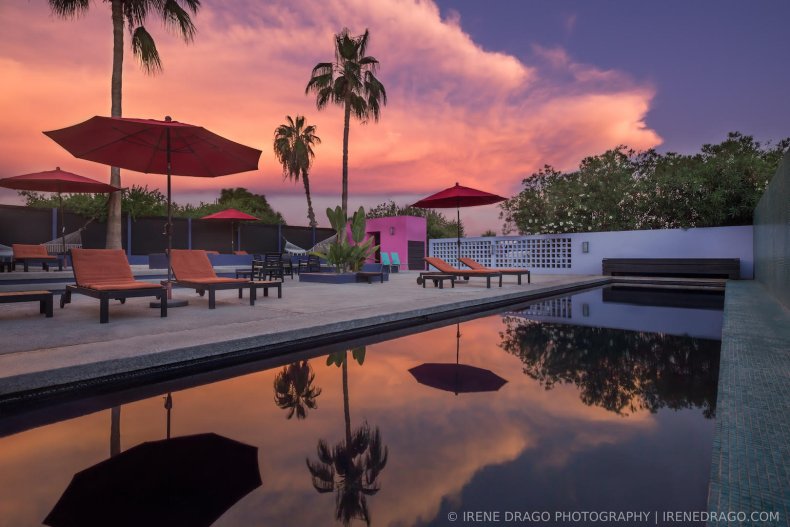 Colette's aware she's won the lottery of life living in Todos Santos; she was rescued by The Hotelito's faithful gardener Don Javier who saved her from a fate of being eaten by wild coyotes or becoming bacon. Don Javier hoped that the little piglet he rescued would cheer up the hotel's owner, Jenny Armit, a British immigrant and former interior designer who moved to Todos Santos 17 years ago.
Armit has used her interior design chops to curate an effortlessly stylish space that's a blend of bold Mexican color and contemporary architecture, featured in numerous design magazines during the 12 years since it opened. Armit describes it as not fitting into one style, rather it evokes a "philosophy of life" and caters to those looking for inspiration outside of the flat, sterile hotels in the surrounding region.
In what Armit describes as a space for creative thinking (her home is also on the hotel's property) with "European sensibilities, but a real reverence to Mexico," she's found a way to not only spot—and save—talent. All her animals on the hotel's desert farm are rescues: horses, donkeys, goats, and more. But Colette is the one she saw a burgeoning artistic talent in as a wee piglet.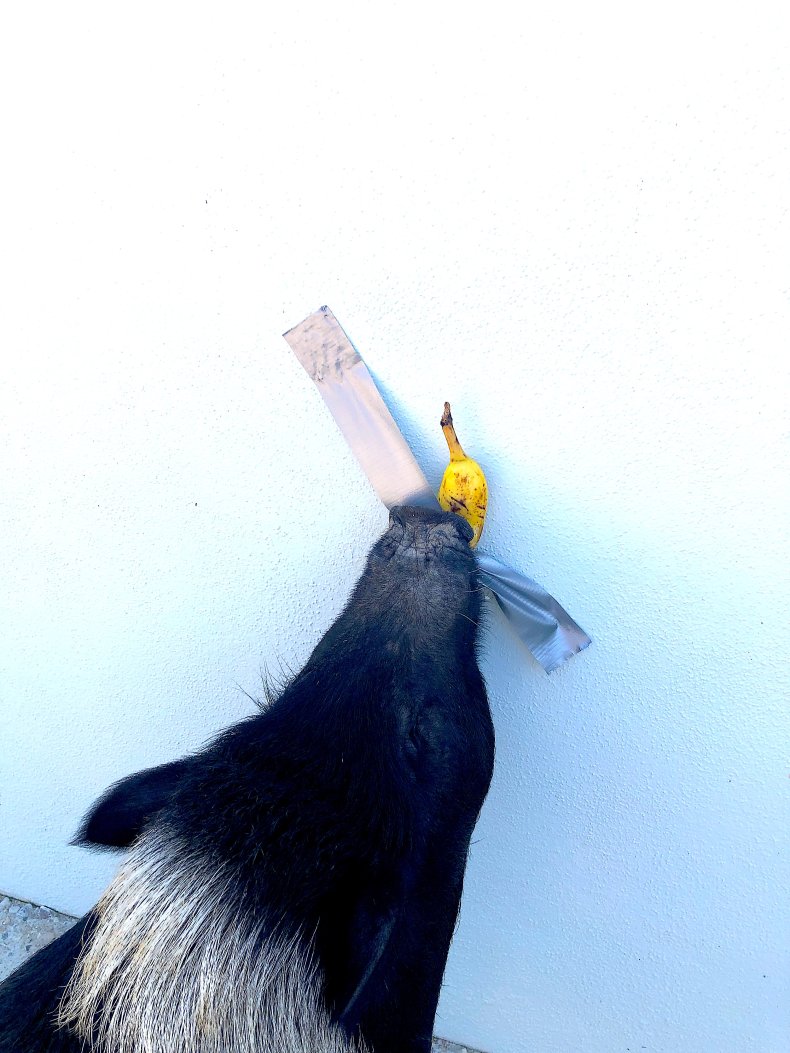 Don Javier, apart from rescuing Colette, was always her champion too. "Colette is an artist. She's not just anybody. She's come to fill the void of what we're all missing," says Don Javier in the film's opening scene. He also nurtured and encouraged her talent, bringing her paints and even installing Wi-Fi in the pigsty so Colette could have access to the international art world.
Armit surrounded her pet pig with a colorful, open space to play and exposed her to art from all over the world—Colette has a gold Tom Dixon chair in her pigsty, after all. Now that's a museum piece. Armit not only fueled Colette's hunger and imagination, but she gave Colette a voice. (That's why in the English version of the film Colette has a British accent. Anything is possible, remember.). Armit let Colette use her voice as a way to funnel her own artistic expression and need for a bit of light-heartedness in a constant stream of doom-filled news days.
"It's an essential childlike quality you have to tap into in order to survive all this nasty stuff going on in the world," Armit says about believing her pig is a true artist.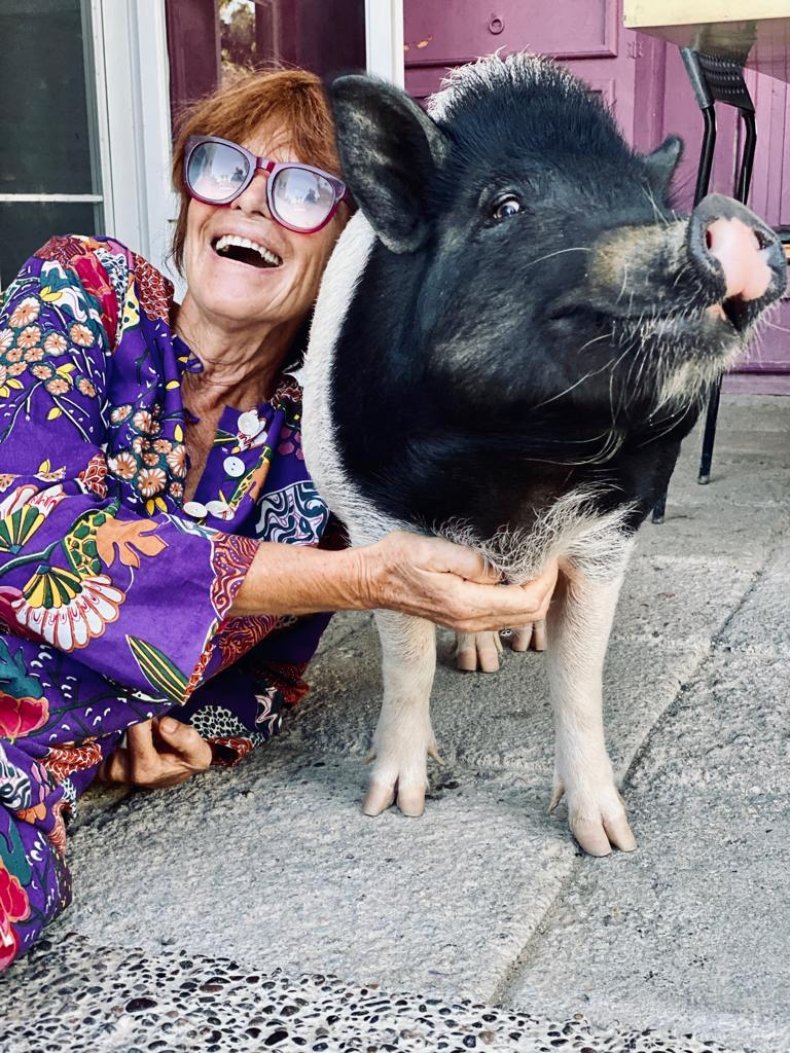 The Colettivo Create Light and Levity in Dark Times
The 15-minute documentary short "Colette the Artist" was created by Armit's fellow creatives in Todos Santos, a group calling themselves the Colettivo. This collective of filmmakers, artists, musicians, magic makers, video wizards and animal lovers banded together to bring a bit of joy and levity to the world during less-than-inspiring times.
The film suggests through the suspension of disbelief that a pig can be a modern artist, nodding to the power of possibilities, inspiration and inclusion. And it reminds viewers not to discount this mud-slinging farm animal from being one of the great creators of our time.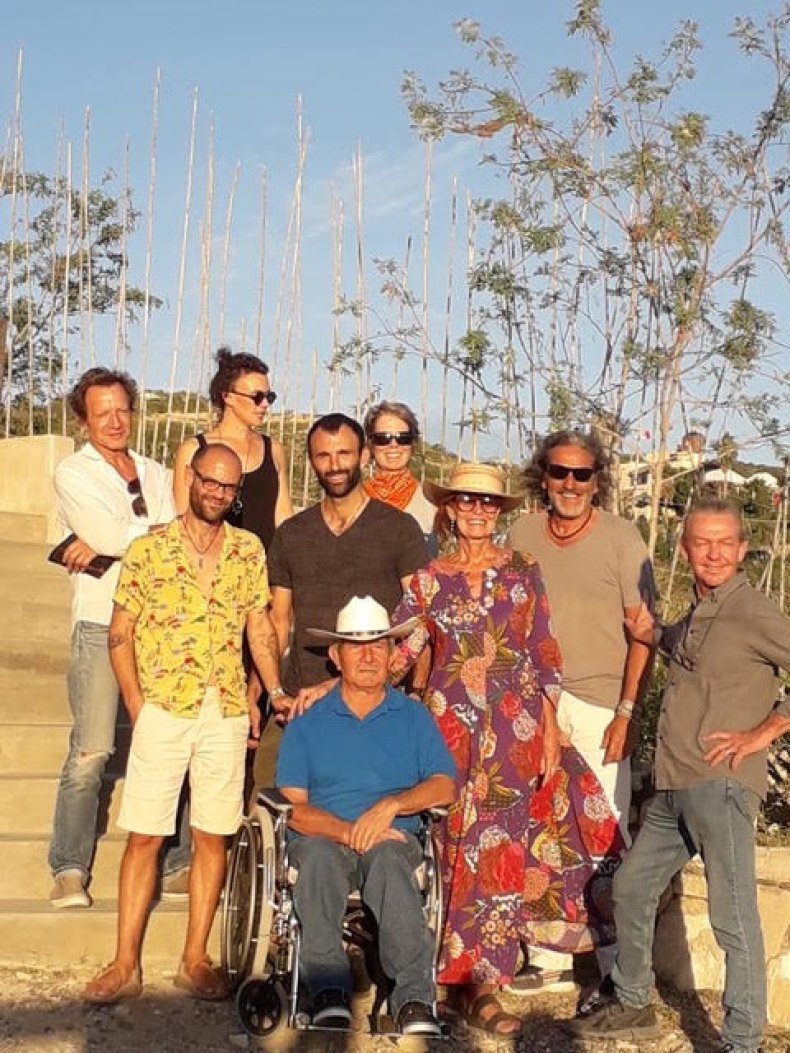 Did you know that pigs are considered the fifth-most intelligent animal in the world—even more intelligent than a dog? It's been reported that pigs are capable of playing video games with more focus and success than chimpanzees. Armit found they can also very sensitive and emotional, as she confirmed with her vet after she found Colette in tears after being scolded. So no surprise these mud-slinging farm animals can be artists too, shows Colette.
The Colettivo includes an impressive mix of creatives, including award-winning American filmmaker Lisa F. Jackson, who lives in Todos Santos and who, along with Sarah Teale, made the 2018 film Patrimonio. Premiering at the Berlin Film Festival, Patrimonio is a documentary showing the dark and dangerous side of rampant, unsustainable development in destroying ecosystems and time-honored ways of life in Todos Santos. But it also shows the power of this strong coastal community as it bands together to stop it.
The Colettivo also includes American painter Micheal Cope who opened the Galeria de Todos Santos in 1994, the first gallery in southern Baja to represent a group of artists in different mediums. Cope's mission has always been to represent and mentor as many Mexican artists as foreign ones. Erick Ochoa, the Mexican artist who helps Cope run the gallery, was born in Mexico City and whose artistic talent helped get him plucked from his father's carpentry shop in Todos Santos to work in Cope's gallery. Now Ochoa is an acclaimed painter and president of the Palapa Society, a nonprofit whose mandate is to improve the lives of local Todos Santos children.
Cope's gallery features some of Mexico's best artists, so he was intrigued to visit Collette's pigsty to hear more about her video art, which we won't spoil for you but uses a touch of magical realism to pay homage to the raw natural beauty of this wild desert-meets-sea town and its affinity for reinvention.
The Pig-anthropy of Colette
Who is Colette? "She's a feminist, a purposeful pig; she's what's called a pig-anthropist. She likes to eat, sleep, and do good things and be useful," says her proud owner and mentor Armit. Colette at the ripe age of two, already wants her art to be meaningful and purposeful in these dark times especially.
Being the self-claimed "pig-anthropist" that Colette is, she wants her film to bring light to The Padrino Foundation, an organization lifting up the children of Todos Santos, providing free healthcare to children in need, just as Colette's nurturers did for her. The Colettivo hopes those who will watch her film on Colette's website (following the film festival screening ending) will also donate to The Padrino Foundation. The world premiere of "Colette the Artist" in Todos Santos raised over $15,000 USD for the people of Todos Santos struggling during COVID and another $15,000 USD for The Padrino Foundation.
"Todos Santos is a truly unique community that welcomes collaboration between Mexican residents and what I like to call 'foreign-born locals'," says the Padrino Foundation president Jamie Kelly, who has made Todos Santos a second home for over 13 years. "Todos Santeños teach us how to properly relax and embrace life in Baja California Sur and in return, we work to extend and preserve that well-being for everyone in our community."
The Cycle of Inspiration Plays On in Todos Santos
While Todos Santos is full of "foreign-born locals" or rather immigrants from other countries, there are Mexicans creating new and exciting art and music here as well. Leo Villalobos, a 20-something musician from Celaya, Guanajuato, represents the younger generation who arrive from other areas in Mexico to Todos Santos seeking a creative place outside of larger cities. And like many others, Villalobos ended up creating a home in Todos Santos. An avid skydiver, Villalobos found his calling was playing music after a skydiving accident grounded him in town. He joined La Todos Santos Cumbia Band, a popular local band with a mashup of nationalities and musical backgrounds playing live Cumbia music (pre-COVID).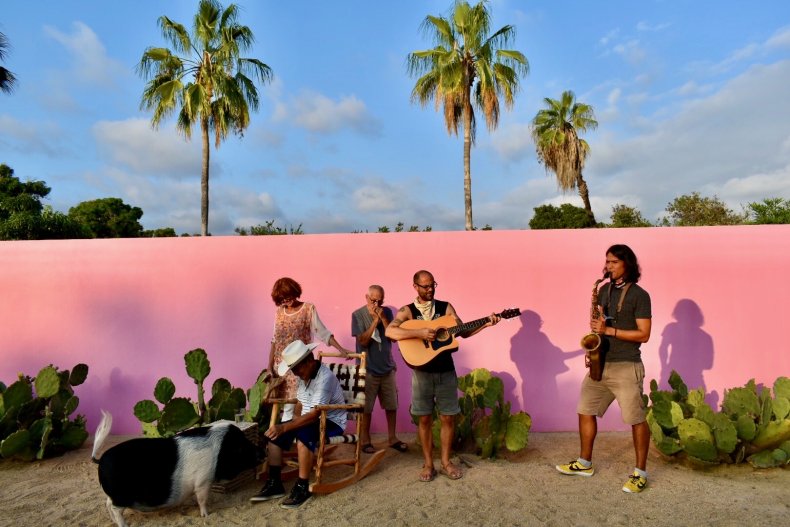 A classically trained musician, Villalobos hopes to give back to the town that inspired him by creating a music program for low-resource Mexican youth in town.
Villalobos joined the Colettivo film project after befriending American musician, guitarist and singer Mateo Haeck. Together they play a beautiful rendition of the iconic Mexican song by Pedro Infante "Amorcito Corazón" in Colette's personal video art project (there's a film within the film), a nod to the country that has inspired them all. "Amorcito Corazón" is one of the most recognized songs in Mexican cinema, a remnant of the so-called Golden Age of Mexican film. The song reminds Villalobos of his grandmother, so he was proud to give it new life in Colette's film.
"Play on children, play on," we can hear Colette chime in. And in 2020, maybe it's time we listen to this pig.
—
You can watch the film "Colette the Artist" here, following the closing of its MVFF33 screening.
Members of the Colettivo include:
Jenny Armit; Michael Cope; Jess Flood; Mateo Haeck; Lisa F. Jackson; Christophe Lanzenberg; Javier Leon Dominguez; Ricardo Madrazo; Jason Motlagh; Francois Paris; Teresa Salas; Suez Taylor; Leo Villalobos.