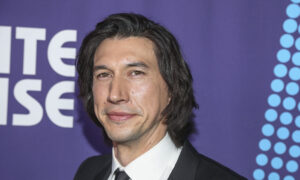 Today, we're excited to announce that two-time Academy Award nominee Adam Driver is set to be the honorary starter at the 107th running of the Indianapolis 500 this Sunday.
Adam Driver is a beloved American actor who got his start in television and indie films before landing several major roles. He starred as the title character in the Golden Globe-winning HBO series "Girls" and also played the villain Kylo Ren in three "Star Wars" movies.
Driver is a native of Indiana, growing up in Mishawaka before joining the Marines shortly after the 9/11 terrorist attacks. He served in the 1st Marines as a mortarman for three years. After being honorably discharged, Driver moved to Los Angeles to pursue his acting career.
Driver has since starred in many films, including "House of Gucci" alongside Lady Gaga, "Logan Lucky" directed by Steven Soderbergh, and "Silence" from Martin Scorsese. Most recently, he is set to play the iconic Italian automobile magnate Enzo Ferrari in an upcoming biography about the late racing champion.
While Driver is no stranger to attending award shows, this will be the actor's first time attending the Indianapolis 500. He will serve as the honorary starter for the race from the plaza of the Indianapolis Motor Speedway.
Throughout its history, the Indianapolis 500 has featured numerous honorary starters and grand marshals. These people are usually influential figures in the sports world, like Paul Newman and Mario Andretti, as well as other notable celebrities. It's an incredible honor for Adam Driver to join their ranks, and we can't wait to see him take to the track.
We wish Adam Driver the best of luck this Sunday at the Indianapolis 500. We're sure he'll do a wonderful job and have an amazing experience. To the drivers ready to go—may the best racer win!