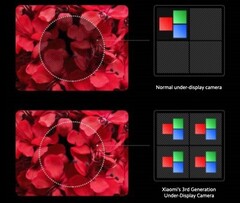 Tipster Ice Universe has targeted the second half of 2021 to get a breakthrough of smartphones using under-display cameras (UDCs). Devices anticipated to feature the technologies include the forthcoming Samsung Galaxy Z Fold range, Xiaomi MIX 4, an Oppo foldable, VIVO and ZTE.
The initiation of the Apple iPhone X in 2017 gave smartphone manufacturers permission to cut notches and holes in their displays in an attempt to make all-screen devices. Though the iPhone is eventually rumored to shrink its notch for the first time after this season, Android manufacturers have been able to shrink the size of their cut workouts — some even attempted eliminating it by pop-up cameras. The current dream, however, would be to get true all-screens effective at taking high quality selfies while concealing the camera beneath the screen including under-display fingerprint readers.
The very first smartphone to hit the marketplace with an under-display selfie camera has been the ZTE Axon 20 5G, which while a remarkable achievement, did not really hit the mark with the grade of its shots. New-generation technology from ZTE and others, however, is anticipated to launch in the second half of this season in what leaker Ice Universe is expecting to become a breakthrough period for the technology. In addition to ZTE, apparatus he lists as coming later this year with UDC tech including foldables from Samsung and Oppo as well as the Xiaomi MIX 4 and VIVO.
UDC technology operates by introducing a transparent cathode layer and transparent anode layer enabling a camera to sit under the screen and capture pictures. Apple is currently also rumored to be moving into a similar arrangement but for its more advanced Face ID True Depth Camera program in 2023. It looks like it will not be too long before UDC starts to become mainstream technologies and the times of notches and camera cut outs in displays will probably be finally coming to a conclusion.
Sanjiv Sathiah, 2021-04-19 (Update: 2021-04-19)