New York, NY, Jan 10, 2022 – (ACN Newswire) – Vingt.io announces the ICO of VGT. The ICO will run from 1 January 2022 to 30 April 2022 or until full subscription.
VGT tokens will be available on the Binance Smart Chain (BEP-20) blockchain and will list on both decentralized and centralized exchanges and trade in the open market post ICO. The total supply of VGT tokens will not exceed 1 billion tokens.
PRIME DIRECTIVE:
Vingt.io is working towards the creation of a decentralised finance ("DeFi") ecosystem governed by the Vingt (VGT) token with the aim of bridging gaps in the existing DeFi space. VGT is the first step in this ecosystem. This will provide the basis for multiple innovative projects that can be governed by VGT.
UTILITY FUNCTION:
VGT shareholders will have key voting rights on strategic decisions, future pathways and overall control over each project. (See below). VGT will be the foundation and strategic component of each project within this ecosystem.
PURCHASE:
The ICO will accept a wide array of tokens available on both Ethereum Mainnet (ERC20) and Binance Smart Chain (BEP20) blockchains, as well as native BNB and ETH tokens as modes of payment. Direct subscriptions must be made from private wallets, not exchange wallets. After the ICO is completed, VGT tokens are transferred to the originating account of funds.
To purchase from centralised exchanges like www.binance.com or www.gate.io for Metamask please refer to https://www.vingt.io/pdf/metamask-wallet-setup.pdf or for a Trust Wallet https://www.vingt.io/pdf/tw-wallet-setup.pdf. Please ensure that the token transfer to Metamask uses the appropriate blockchain (ERC20 or BSC20).
TOKENOMICS:
The ICO runs across twenty distinct phases, based on a waterfall model, over a four-month period with 500m (50%) of VGT issuance up for subscription.
Each phase will have a fixed cost and limited availability. Once a phase is complete, the ICO moves onto the next phase until all phases are fully subscribed or the ICO's end date of 30 April 2022. Below is a table that shows each phase of the ICO, along with its associated price and quantity.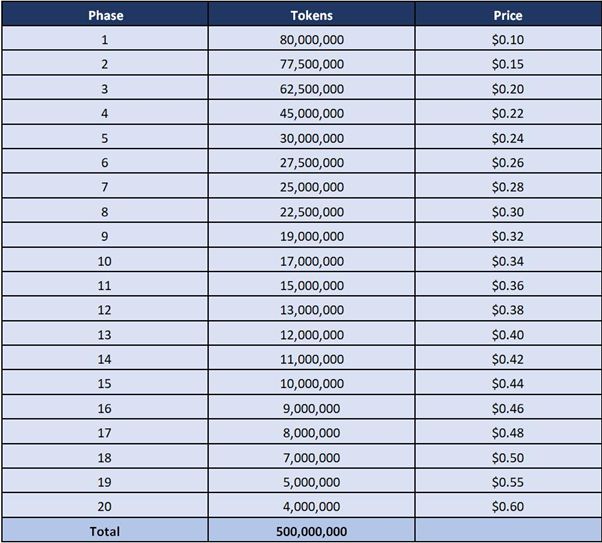 Vingt.io creates a digital ecosystem with eight major projects. It bridges the gap between traditional markets, and the cryptocurrency space through the development of similar structured solutions.
Notable strategic projects in development
Indexed Products [BSK]
A basket of twenty cryptocurrencies. Investors can take advantage of macro exposure to the crypto market while limiting their idiosyncratic risk. This basket of cryptocurrencies, represented by the Basket (BSK) token, will be fully collateralized by third-party custodial holding of its constituent assets.
BSK is a one-stop shop for investors who want to hold multiple cryptocurrency assets. It offers diversification benefits and minimizes operational costs by holding only one asset.
Development will launch a series of indices that include categories such as Altcoins and DeFi Tokens, Onchain, Metaverse, and Index of an Index.
NFTs
Vingt.io is launching multiple NFT collections which will be available on the Binance Marketplace in the coming months. These smart contracts will allow for the creation of NFTs, which can be used to own valuable digital assets in the Metaverse.
S1-B – A limited run of twenty (20) unique priority cards will be created and released to prospective collectors, each with their respective privileges and rewards. Platinum members will enjoy a higher percentage token payout on ICO launches, greater voting rights on existing/forthcoming project, and the ability of liquidating to a predetermined number VGT tokens.
S1-E – is the first in a continuing series of computer generated digital illustrations of 8,888 unique images of Baby Tiger. Baby Tiger will be featured in this series wearing unique attires and accessories that can be collected.
Dynamic Wallets [VGTW]
Investors today need to have multiple online wallets, one for each blockchain, in order to protect their digital assets. Investors must also protect multiple private keys, one for each wallet. Their inflexibility and limited cross-chain compatibility quickly make this a burden. Hardware wallets may stop functioning, can be misplaced, and could have undiscovered vulnerabilities. Exchange wallets can be hacked online and are completely under the control Exchange.
Vingt.io is creating the Vingt Wallet (VGTW) – an online wallet that aims to provide users with full cross-chain compatibility and a comprehensive view across a dashboard display. This interface will offer full functionality and flexibility all in one user-friendly interface.
Wraps [WRAP]
Vingt.io strives to develop tailored wrappers to meet the changing market demands. For example, cross-chain custom-built assets based on client requirements in tokenized form.
Powered by Binance Smart Chain, each wrapper will contain bespoke trading strategies. This will enable investors to deploy complex strategies through the purchase of a s