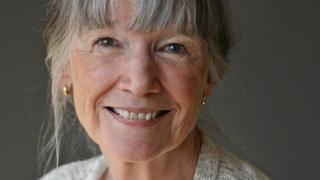 While many of us may be struggling to adapt to staying at home and avoiding social contact, Anne Tyler prefers it that way.
"I need to be alone," one of America's greatest living writers told the BBC. "I feel worn out if I'm in a group for a long time."
Solitude has been central to her writing career, which spans more than half a century.
"You could almost say I live a quarantined life anyway."
The author, 78, has sold more than 11 million books and been compared to Jane Austen.
Nick Hornby, meanwhile, has said she is his favourite writer.
Yet all of this has been achieved with remarkably little fuss and fanfare. She keeps a low profile and rarely gives interviews or appears at literary festivals.
She says she did not think her life in the American city of Baltimore would be changed much by the coronavirus pandemic, but admits "it is different" now.
"It's very sad to walk through the woods every morning, which is where schoolchildren walk to go to school and see not a single child.
"We're supposed to not mingle in any way," she adds. "I always have these two friends come over for 'wine therapy', as we call it, and I just cancelled them."
But do not expect the virus – or its impact – to make an appearance in her next novel, or even the one after that. The outside world does not tend to intrude in her books.
"It would derail the small private story I'm trying to tell," she explains. "I think it'd be really wrongheaded of me to suddenly start talking about the coronavirus at this stage in one of my books."
"I'm very much a believer in letting things get old before we write about them at all. In other words, I've never written about the World Trade Center, you know, and I haven't read any good books about it, frankly. But I think that in 20 years, they might have a good one."
In total, Tyler has written 23 novels. Nearly all of them are set in Baltimore, where she has lived since 1967.
The Accidental Tourist was turned into a Hollywood movie in 1988 starring William Hurt, Geena Davis and Kathleen Turner. She won the Pulitzer Prize the following year for Breathing Lessons; and A Spool of Blue Thread was shortlisted for the Booker Prize in 2