– Elitedias leveled up, offering new payment options catered to local preferences
– The game top-up company expanded to 3 countries – Malaysia, Indonesia, Australia
– Homegrown users have grown 5x within 3 months of integration
HONG KONG, Jan 10, 2022 – (ACN Newswire) – Elitedias, the Singapore-based game credits top-up platform launches new payment options with XanPay across Southeast Asia to differentiate themselves in the competitive gaming landscape.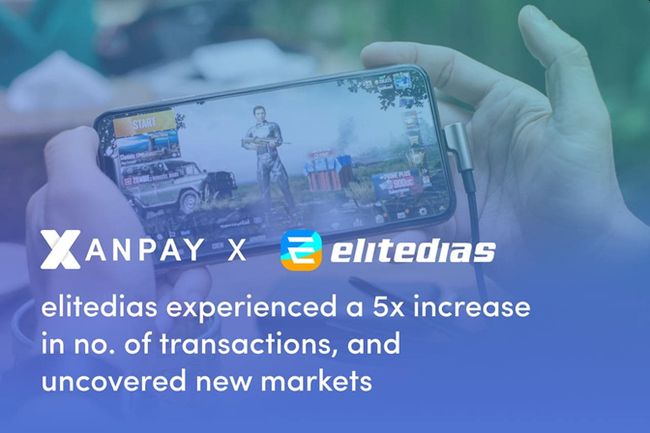 Gaming became very popular in the wake of the pandemic. Up to 40% of the world's top gaming markets are located in Asia and Elitedias was born to cater to this exact demand. The first time the game credits top-up company started selling credits on Carousell to friends, it was cheaper than the Apple's AppStore and Google's PlayStore. They quickly discovered that the game credits would be of great benefit to a larger gamers market than they anticipated.
The
Elitedias team is very focused on Singapore, their homebase market. They also offer local payment options that are more convenient than the standard credit cards. Despite XanPay being a new payment option, the team noticed an increase in users choosing it as their checkout method.
They also created a strategy to keep users. Users who encounter PayNow QR payment problems on another payment gateway are redirected to XanPay to make sure purchase can be completed smoothly. This has prevented both existing and new users from being lost in unanticipated situations.
Opening new doors in the Asian market
Southeast Asia's (SEA) region is the fastest-growing mobile games market in the world, boasting a year-on-year growth of +17.4% with $2.6 billion revenue. XanPay specializes on offering alternative payment methods that are widely accepted in this market.
Prior XanPay Elitedias had been primarily focusing on the Singapore market. By using a simple no-code WooCommerce plugin integration from XanPay, the team quickly uncovered new markets in SEA. Within a month, cross-border payments began to flow in from Australia, Indonesia, and Malaysia. After a few months, the number of transactions from these new markets has increased more than 5x and the volume has grown over 10x month-on-month.
The rapid adoption of these payment options by XanPay in different countries has shown how familiar and well-known they are. Users were able to navigate easily to check out and make payments.
"It's exciting to acquire users from new countries with XanPay. This has allowed us to gain a head start in growing in markets like Indonesia. We are excited to take our business to the next stage in the SEA region. – Jordan Chen, Co-founder of Elitedias
Achievements
Casual gamers of Elitedias in Singapore who uses XanPay has grown 5x in 3 months
Retained users who encounter PayNow issues on other payment gateway
Exp